---
FRESH AT THE TIME , NUTRITION IS ON GO 
Portable & Lightweight: Easy to carry around in a bag or in your hand, full points for your status.
Powerful:150 W with an inbuilt 22,000 RPM motor the Smoothie-365™ is more than capable of easily crushing ice and frozen fruit.  
Ideal For Everyday Use: Blend in 45 seconds & auto-wash in 45 seconds.
Self Cleaning: Don't hurt your hands ,just add water ,one-click button to start , cleaning completed.
Long Lasting: Get more than 10 uses from each full charge.


Blend a Delicious Drink In 45 Seconds !

Then auto-wash in 45 seconds !
Ready for next time !

For Parents, Gym-Goers,
Vegans & Coffee Lovers...

HOW IT WORKS
1. BLEND :
 Place your ingredients in the jar, screw on the base, flip & blend it. 
2. DRINK : 
Enjoy drinking your delicious smoothie or shake or coffee or whatever you love! 
3. RINSE :
 Fill jar with water, 2 drops of soap, blend it & rinse for a 100% squeaky clean.




Power Enough To Crush Ice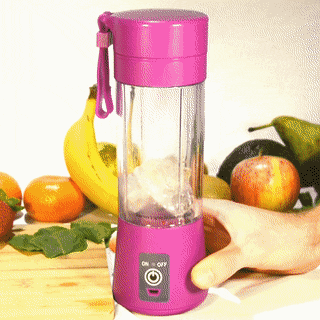 Self-Cleaning 

Don't hurt your hands ,just add water ,one-click button to start , cleaning completed.

We Considers Details
-Filter
Built in filter to eliminate residue .
-6 Stainless Steel Blades 
6 for powerful efficiency , quick juicing instant crushing . 
 Multi-Functions
Any time and anywhere to enjoy delicious fruit



 
As a family owned and operated company , we stand behind every product we make .
If our products fail to live up to your standards , you may return them at any time for a replacement - no questions asked !
"Don't Miss Our Exclusive Discount Only This Week"




Buy Now & Get 50% Discount 





Shipping 

I JUST PLACED AN ORDER, WHEN WILL IT SHIP?
Please allow 1 - 2 business days of processing and production time for your order to ship out. 
HOW LONG IS THE SHIPPING TIME?
Average transit times to the United States: 6- 10 Business days.
Average transit times to

 

United 

Kingdom

: 6 - 10 Business days.
Average transit times to the Canada: 6- 10 Business days.
Average transit times to the

 

Australia: 6 -

10 Business days.

Average transit times to the 

New Zealand

: 6 -

10 Business days.




There are circumstances that are out of control (natural disasters, holidays, weather, etc) that may cause shipping postponements. While most packages will arrive on time, there may be circumstances and delays that our carriers may experience. For this reason, we do not guarantee the exact delivery time; the delivery issue is the responsibility of the shipping company.
CAN I CANCEL MY ORDER?
You are able to cancel your order with no penalty! You must cancel your order 24 hours after creating it for the cancellation to be applied. If the item has already shipped. All you need to do is send us an email with the subject line "CANCEL".
I HAVE ENTERED AN INCORRECT ADDRESS!
If you have misspelled or auto-filled your address incorrectly, simply reply to your order confirmation email and give us the correct information. Notify us immediately via email. If the address is wrong, we can correct this within 24 hours.
MY ITEM ARRIVED DAMAGED 
We do ship every item with extra padding. Despite this, our customers report that around 1 in 1000 products arrives damaged due to mail service mistreatment.
FOR PRE-ORDERED OR BACK-ORDERED ITEMS
If your order contains a pre-ordered or back-ordered item, we will ship any items we have available immediately and ship the items that are pre-ordered or back-ordered immediately when we have them available. So if you ordered more than one item on a single order and receive only a part of your item don't worry, you will receive your other items shortly after.
If this happens to you, please contact us with:
    - Your order number.
    - A picture of the damaged product.
Once received, we'll be happy to send out another free of charge.


I HAVE A QUESTION THAT WASN'T ANSWERED, CAN YOU PLEASE HELP?
If we still haven't managed to answer your question please feel free to contact us and we will do our best to reply within 24 hours :)
Specification
Capacity : 

380ML

Battery :

2000 mAh , 3.7 V

Rotating Speed :


22000 RPM

Power :


150 W

Material :

Food grade material ,healthy and assured

Type of cutter head:


 

6 Stainless steel cutter head 

Size :
23 * 7.5 *7.5 CM
How To Use:

① Cut the fruit into the size of around 1.5 CM
② After adding water, the cup is filled with around 80%
③ Tilt down the Portable Blender to 45 degrees for 2s then straight cup
④ Shake 5-8 times run for 10-40 second
FAQ
Q1: How many ounces does this hold ?

Answer: Bottle Capacity: 380 ML. It is very suitable for personal size, easy to clean. It is a cute, portable, easy to use blender.

Q2: Can this blend with hot liquid ?

Answer: yes , it can blend with hot liquid.
Portable Blender is filled about 60%-70%, adding some water or milk or other liquid, cup body is filled around 80%, it would be the best.

Q3: Will it fit in cup holder in a car ?
Answer: Yes, it should fit most car cup holders.
The diameter of the cup is 70mm and its height is 230mm. If your car cup holder is limited in height ,It might not fit.
Q4: How do i clean this without getting water in the USB port ?
Answer: 
When cleaning, put some water in the cup, press the button to start automatic cleaning.
The second method is to separate the cup body from the base, press the USB port with your finger and put it on the faucet for flushing. So it won't get into the water. Thank you.
Q5: Can you put this in the refrigerator?
Answer: Yes it's refrigerator safe.
See Product In Use
Cleaning Process :
 Safety : 
Banana Drinks:
RATED 5 STARS BY OUR LOVELY CUSTOMERS!
A powerful little blender that's easy to clean and the perfect size to take on the go ! I was very impressed by how it handled even large chunks of frozen fruit .
If you want to eat healthy but struggle with time this is a must buy!
It's an excellent fun way to get your 5 portions of fruit and veg in . The combinations are endless and my kids really enjoy trying out different recipes !
What Makes Us Special
Find out why you should choose our store instead of other store.